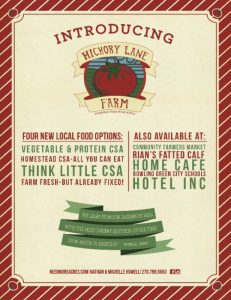 Our farm hunting has come to an end and we'll be settling on a civil war era farmstead just south of Bowling Green in Half Way, Kentucky.  With our move comes a lot of changes including how we will be sharing our harvests with you-our farm members.  While we have loved our multi-farm CSA option many of our suppliers are finding lots of success selling directly to consumers at Community Farmers Market on Tuesdays and Saturdays.  As our kids grow older they are asking for their own pigs, cows and chickens.  After much prayer and consideration we'll soon be growing and raising all of the food we offer in our farm shares right on our own farm.  We will be shrinking our own CSA to meet our own financial needs while creating more opportunities fOur new farm at 395 Hickory Lane will offer opportunities for you to come work alongside us, enjoy harvest gatherings, potluck meals and more.  We are excited about what the future holds and we hope that you will consider coming along with us.
In addition to a new "all you can eat" option that we will be offering to a small number of households we will be opening up our farm to allow beginning farmers and local food entrepreneurs take the next step towards owning their own business.  We are thrilled with the enthusiasm and excitement from Jordan & Jackson Rolett and Emily Aldridge to offer the community fresh, local food.  We hope that you will consider one of their new CSA options for the coming year.  You will also be able to find our fresh grown food at one of our community partners:  HOTEL INC, HOME Cafe & Marketplace, Bowling Green City Schools, Rian's Fatted Calf and  Community Farmers Market.  Building a stronger food system with access to more people is a priority for our farm.
Farm Fresh-But Already Fixed!-Our new farm chef Emily Aldridge will be offering a prepared food CSA with pickup at Community Farmers Market on Tuesdays.  This will be a great way for you to get the best of fresh, local food but in a convenient already prepared option.  Cost is $55 per week.
Think Little CSA-Jordan and Jackson Rolett have been farming alongside us for over a year.  We will be providing them the opportunity to start a year round small CSA.  The cost will be $20 a week for 5-7 fruits and vegetables.  Pickup will be available at Community Farmers Market on Tuesdays.
Homestead share-visit the farm each week and "take all you can eat".  That's right, you will be able to have "free choice" of all the vegetables, eggs, beef, pork, milk, prepared food and bread you can eat for the week.  You will also receive "shares" of specialty items like olive oil, real salt and fruit.  In addition, you will have the option to purchase bulk food items at wholesale costs from our new farm kitchen.  This option will allow you to play and work on the farm and enjoy a meal together around 7pm on Thursday evenings.  SOLD OUT
Protein & Vegetable share-Over the year you will receive a vegetable share (just like what you currently receive), 1/8 cow, 1/4 pig, 6 chickens (meats will be distributed monthly), 24 dozen eggs and an "extra" item like olive oil, citrus, berries, maple syrup, canned item, prepared food, bread, real salt each week.  Pickup will be at Community Farmers Market on Saturdays between 8-1.  You are invited to come out and visit us at the farm anytime.  20 spots available  SOLD OUT
All CSA options begin October 1st.
---
This share works best for:
·      People who want to eat local, fresh, healthy food, but whose time is limited in the kitchen.
·      People who desire to follow a clean whole-foods diet for health reasons, but may not have the energy to cook.
·      Families who need to supplement their Vegetable and Protein Share with some quicker, easier options for busier days.
·      Households that don't prefer to cook, and like the convenience of prepared local food.
Think of this as your local version of that glorious deli case at the swanky natural foods supermarket. The goal of this share is to provide a household with several weekly items that can be mixed and matched to provide one large meal with leftovers, or several quick lunches, smaller dinners, and snacks throughout the week. Portion sizes are based on feeding 2-4 adults. If you want to eat healthy, local food, but run into the everyday obstacles of life, this Prepared Food Share provides a convenient way to nourish you and your family.
Cost: $55 per week, $120 per 4-week cycle, $2750 per year (50 weeks per year)
---
There will be 50 weeks of CSA boxes comprised of a variety of seasonal vegetables, fruits, herbs, and foraged items. Given the nature of this transition, we will also be purchasing items from local farmers that we consider seasonal staples, but will not have the opportunity to grow (sweet potatoes, onions, garlic, etc). The Think Little CSA is best for one to three people who want begin integrating seasonal produce into their diets while supporting a local farm family.
Twenty shares are available at the cost of $1,000 per share/year (or $20/week). We will be accepting payment for the full year, beginning in October and ending in September of next year, or quarterly via post-dated check. If you require other means of payment, please contact us through the information provided below. CSA pick-up will be at Community Farmers Market on Tuesdays between the hours of 2pm and 6pm.
To sign up for a share or for more information, please contact Jackson Rolett by:
Email: thinklittlecsa@gmail.com
Phone: (270) 943-9228
---