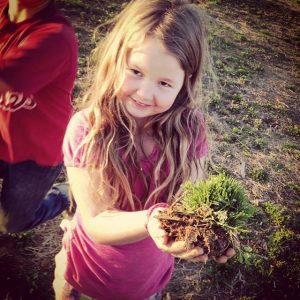 Have you wondered what it's like to be the mother of this precious, beautiful, amazing little girl-Elizabeth Grace?  All of my children are such unique, amazing human beings-I'm so thankful to be raising each and every one of them.  But let me take a moment or two to tell you why Elizabeth is so special to me-because tomorrow is her 9th birthday.
Since I had the honor to give birth to her I'm going to allow myself the opportunity to tell you what it's like to raise someone who is so much like myself, but even better.  When I see Elizabeth I recognize the person who was once inside myself as a child (but never allowed to reveal myself).  So many things held me back in life and in so many ways Elizabeth has been the key that not only unlocked who I was meant to be, but also allowed me to "stop and think" about how we do this thing called life-so all of our kids (and other people we know) can be their very own unique selves.
From the beginning Elizabeth wouldn't take a bottle.  Having switched to formula right away with Carter (even though I didn't want to) Elizabeth refused-it was as if from the very beginning she wanted to push me beyond my comfort zone and force me to do what I knew was right.  In all the ways that Carter is like his father-Elizabeth is just like me.  She's determined, eager, a hard worker, confident, and compassionate.  I'm forever thankful that her beautiful spirit combined with Carter's cautious skepticism encouraged Nathan and I to consider everything we had ever learned about life:  food, school, work, compassion, sacrifice, community.
When people have challenged her about the "few extra pounds" she's countered it with a healthy dose of "this is the healthy me and I'm okay with it".  When she's struggled with reading and writing she's remained optimistic that the other ways that she's learning and observing the world will serve her well.  When she's giving of herself beyond what seems appropriate for the average 9 year old-she just keeps giving until others start to believe in kids too.  Lord-I could just weep if I wasn't praising with joy at how relevant this child is to the current world.
I'll forever be thankful for my sweet Elizabeth-she's in many ways healed places deep inside my soul that I never even knew needed to be healed.  Maybe she's done the same for you.  If so, please be kind to her.  Be gentle on that sweet soul that will forever and always give more than she has to give and must be filled back up with love and praise in order to find the balance and hope she deserves.  She graciously and with mercy reminds me of all those needs within myself and others too.
Happy Birthday, Elizabeth Grace (your name fits you well).  Your mama is so thankful to have the honor to raise you up until you are on your own and flying free in this big, hard, beautiful world.