I spent the last two weeks being humbled and honored at several events across the state for my recent work in local food at home here in South Central, Kentucky.  While making me a bit uncomfortable it's offered me the opportunity to reflect on how much has changed in my life and community over the past few years.
At several appointments I was asked to give an introduction to my work.  Before getting into the list of tasks and accomplishments that I know people had come to hear I started with this each and every time, "Six years ago I didn't feel comfortable walking into a farmers market."  To say it was to feel it again and I could tell that I made more than a few uncomfortable as they sat there in their chairs.  I won't assume what made them uncomfortable.  Maybe it was that they had not expected me to begin that way or maybe they too have experienced the fear that they weren't enough for something more, something better.
I know now that I was meant for this work.  I didn't just stumble into a job at a local orchard or pursue a degree in agriculture or get hired by the University of Kentucky to help tobacco farmers transition to fruit and vegetable crops.  So how did I find myself in my early 30's as a stay at home mom intimidated to shop face to face with local farmers?  I'm not sure-but it's something I've spent a lot of time thinking about lately.  I do know that it in some ways it stirs up feelings from my past.  Feelings that I could bury really deep or bravely dig up so that I continue the hard work of inclusiveness within a healthier food system.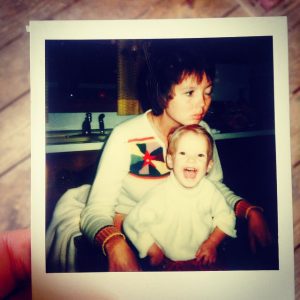 A photo of me and my mama.  Struggles often bring triumph.
You see-I was that girl.  I was the girl who stood at the end of the lunch line because I was one of the few who received free lunch and I was the girl who all the parents whispered about because they were concerned about me hanging out with their kids and I was the girl who had been kept in my place year after year.  And then I had enough.  A few good breaks, some positive folks, a bit of luck and a lot of faith landed me on the path towards finding my own unique place in this world.  I was doing it for my husband, my kids, myself-and others seemed to be helped by it too.  So I kept going until one day I looked up and it was apparent.
I had gone above my raising.
This is where the hard work begins.  This is where the critics, the powerful, the ones who had considered me unassuming start to take notice and become concerned.  My work could become about them and I could say I've arrived or I can continue doing what I do for the people who need it most.  I can rise up or remain the least of these.  I choose the latter.
Opportunity should be handed out in handfuls to those who hard work and have determination-not because of who they know or where they come from.  I am proud of the work we are doing  here in my community and thankful for those who have believed in me along the way.  There are a lot of reasons why Kentucky falls short when it comes to our health, but together we can rise up and make changes one small step at a time.  I've been asking myself "what's next for local food" and I have several predictions that I'll be sharing soon.  Until then, go out and support a hard working farmer, public health employee, grocery store clerk or anyone who's spending their time serving you today.  They may be doing it because it's their only option or because they have a desire to serve.