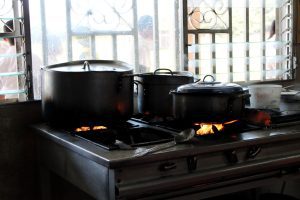 As we drove the streets of
Honduras
it became apparent that many women and most children were at a loss.  Many simply sitting on roadsides watching the world go by.  I met one hard working woman while in
Honduras
who inspired and motivated me to consider how her story may just make a difference here in Bowling Green, Kentucky.  This beautiful woman loved to cook and was still managing to do this for income, but recently an opportunity for success had been taken away from her.  Making her favorite prepared food items and selling them had been a dream come true that was taken away from her due to policies and power.
After I returned to my hometown I worked through balancing the life changing experience of a trip oversees with the defeat that comes over you when you realize that
all you've got is never enough
.  At the moment when I couldn't decide if I should just hide out on the couch a woman who I had met through BabyNet was getting ready to face the same thing I had witnessed back in Honduras.  I had tried Amanda's tamales in the past and they are delicious.  She had started selling them at Community Farmers Market and was seeing success beyond anyone's wildest imagination.  While that might seem like a dream come true-let me tell you-just watching Amanda pull all nighters, take a cab to the market and balance her work load with motherhood could leave anyone in need of a nap.  But she did all of this with thankfulness.  We all knew she was breaking the rules.  Single moms who are struggling don't just rise up and find success, or could they?  Those of us who knew Amanda were cheering her on (with a tamale in one hand) because she gave us hope-hope that we're not that important-because equality can happen.  So here I was feeling hopeful, but still wanted to hide on the couch when the policies and power that we face in our own country began to rise up and place obstacles in front of our dear tamale lady.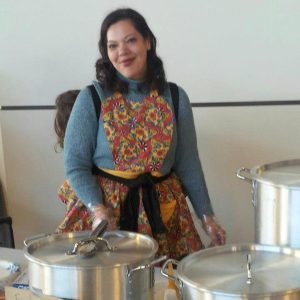 While each obstacle felt like defeat in the moment Amanda never lost sight of her desire not to compromise on the product she created.  Her desire and passion could be tasted in each bite as consumers we're hungry for what she was serving up.  And the farmers around her were benefiting from the positive energy and increased sales she brought to the market.  Together a group of caring peers, community leaders and government employees were able to rise up and create opportunities for those who need them most.  In many ways Amanda sacrificed her time and effort so that others could benefit from the investment into improved local food policy.  That is where my hope comes in.  Let me be honest-we faced opposition, bullying, negativity and a lot of fear.  But we never lost sight in what might be in the future-for the iced cream lady, the juice ladies, the bread maker, the coffee house and all of us farmers who are paddling in the same boat.  We were able to connect to those who cared about us-our stories.
The reality is that there are a lot of obstacles standing in small scale local food businesses way.  While we're traveling off the beaten path we have to pay careful attention to who we're traveling with and be prepared to clear the way from time to time.  We've been charting new territory here in Bowling Green, Kentucky and some of that work is done in meeting rooms, on the phone, through face to face conversations and filing more paperwork.  The rest is done in the field, or kitchen or at the farmers markets.  Rather than complaining we're finding the people who care and building up partnerships, being willing to collaborate and negotiating when necessary.  Things will not completely change over night, but they are changing.  For that I'm hopeful.
There was a quote in our local paper recently that said local food has been "in vogue" in the last couple of years. I'd agree that local food has become "new" to more folks over the last couple of years, but "vogue" I'm just not sure about. That statement means that local food has just been a fad, a blip, a fun thing to do for a bit. While you can't stay new forever there is too much hard work, determination and real relationships being formed to call this "vogue". Policy change, food access, food system development, grassroots marketing and most importantly relationships between consumers and local farmers have been happening in a big way. I notice the change…things aren't as new a they once were, but that's because it's the new "normal" for more local food buyers. Restaurants, schools, food pantries, child care centers, large institutions are committing more of their dollars locally than ever before (through local small scale farmers). We're talking about people cooking more meals at home or with chefs who buy local, making half their plate fruits and vegetables, supporting the local economy, caring about the hungry, increasing our food security, changing habits and becoming healthier…together as a community.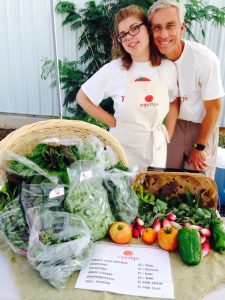 Top Crops selling at Community Farmers Market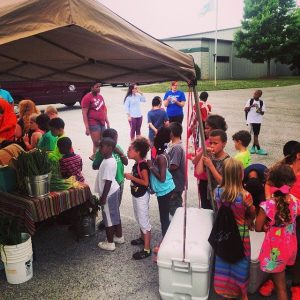 Students at the Boys & Girls Club shopping the mobile farmers market thanks to contributions from local organizations, businesses, individuals and churches.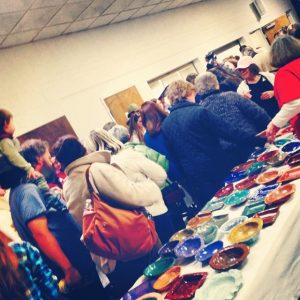 A packed house at "empty bowls" to benefit HOTEL INC.