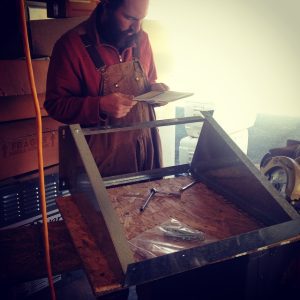 The end of December always seems to trick us with a bit of warmer weather before the below freezing temperatures sneak up on us first of January.  Nathan was determined to be prepared by installing new heaters in the high tunnels-although because of one thing after another they aren't running yet.  And Nathan knows he'll need them soon.  Not sure how he knows, but I expect it's something he learned while being raised on a farm in Hart County by farmers who knew only of walking outside and looking at the sky, or seeing which way the wind blew, and then paying attention to how animals were behaving in order to predict weather patterns.  I'd know more if I had the ability to stay focused enough and pay attention.  Nathan does depend occasionally on his new iPhone for weather updates (actually that's all he uses it for-that and looking up used stuff for sale), but that seems to fail him more often than not.
On New Years Eve the online weather app was predicting temperatures just below freezing which would have meant the crops growing in the high tunnel would have been perfectly fine without additional covering.  We had some of our closest friends over for dinner and throughout the night I could feel Nathan's anxiety rising.  He checked not one weather app, but several (over and over again).  After almost everyone had left he came into the dining room wearing all his layers and a head lamp.  The 200th anniversary of Scottsville would be celebrated at midnight which was only 30 minutes away and we had plans to attend.  We stepped outside and walked across the yard over to the high tunnels.  I'm sure that we all realized that the crunch of  grass under our feet wasn't a very good sign.  I cranked the sidewalls up just enough for Nathan and Jackson to squeeze through and then quickly lowered it back down.  They stepped across to the other side of the tunnel where the covering laid and Nathan said, "it's froze.  let's get back out."  Not what any of us wanted to hear.  On the way back to the house I asked, "how bad is it?" and didn't get an answer.  Determined to celebrate this new town we live in Nathan asked me to get the kids up (all but Elizabeth were asleep on the couch).  Slowly-one by one-we got them up and dressed and in the car to head into town.  It brought back memories of being a child and being awoken during the night like that and it made me wonder if this would be a night they always remembered.
That night we held hands almost all through the night.  It's one of those hard things to pray about.  You pray that God will provide knowing that when you farm full time-sooner or later-things happen.  It's a good, solid reminder that we're not God and even when we don't want to we offer thanks for the reminder-we do.
Our January has a nice routine like to flow to it that makes me get a bit too comfortable.  Nathan reminds me that spring is just around the corner as he sits down making his seed orders and prepares his taxes.  It's nice having him in the house more often too-something I know I better not get too comfortable with.  This freezing cold weather marks conference season for us as well and it seems that it always gets really cold and often snows during the annual trip to Lexington for the Fruit & Vegetable conference.  This year I've decided to stay home.  It will be the first conference I've missed in the last 14 years.  Part of me still wants to go (a pretty big part), but there's this other part that knows that staying will offer me and my family a lot that we need right now.  First, I'm pretty behind on laundry, dishes, cooking and other house tasks that are important for me to get on top of.  I'm also behind on a lot of my responsibilities around the farm too.  Staying home is like adding a couple of days to my life in a very good way.  Second, I've sort of had too much of myself lately.  The last two years I was asked to speak at the conference and while thankful for the opportunity I think it's time for other voices to be heard.  At home I can do more listening.  To my children, to myself.  At least for this week of my life this feels right.  More on that another day.