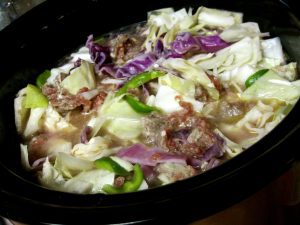 This time of year is crazy around here.  During the busy summer months on a farm I find it easiest to prepare 2-3 big meals that we can all eat from through the week.  These are perfect with a side of fresh corn (we eat it raw), cantaloupe, watermelon, sliced tomatoes…
You could really vary these according to what you have on hand, find at your local farmers market or even to use up extras in the freezer.  I simply throw all the ingredients into the crockpot and let it sit for 6-8 hours.
Cabbage and Sausage
Head of Green Cabbage
Head of Purple Cabbage
Bell Pepper
3 Mild Jalapeno
Sweet Onion
2 Pounds Sausage
Salt & Pepper
Drizzle of Honey
Total Cost:  $12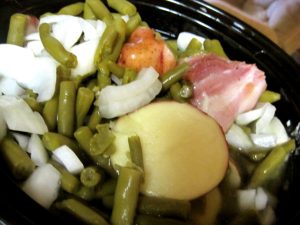 Meaty Green Beans
Lots of Beans!
Package of Bacon
Sweet Onion
Green pepper
New Potatoes
Salt & Pepper
Total Cost:  $10