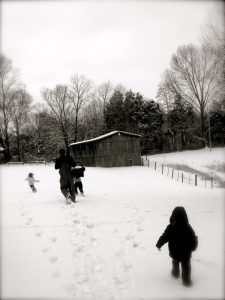 _
Join me in getting control of the Winter Blues this year.

 

It took me most of my adult life to realize that every winter my mood seems lower (I notice it in other people as well, including my children).

 

It could be because we stay in the house more often or that the days are shorter. Whatever the reason, I've decided to do something about it!

 

Come to find out that my moodiness actually has a name:

 

Seasonal Affective Disorder (SAD).

 

I'd like to share a few of the things that have helped our family getting control of SAD.
Nourishment ::
One of the best things we can do for ourselves during the winter months is to take care of our health.  A few things to make sure to include into your winter diet:
~Real Foods (Fruits, Vegetables, Meats, Eggs, Milk)
~Omega 3 Fatty Acids (Chia Seeds, Salmon, Free Range Eggs)
~Vitamin B complex (Spinach, Berries, Legumes)
~Vitamin D (Sunlight, Fish Oil, Egg Yolks)
Food is our primary medicine and it can boost our immunity, increase our energy, and help support our moods.  Simply adding Green Smoothies, omelettes and fish to your winter diet can get you back on the right track.  Exercise can do wonders to boost your energy levels, as well, and if you take a walk or run outdoors, you will be getting in that extra sunlight you need!

Embedded in family life and in cultural and religious ritual, food has always been our most direct, intimate tie to a nurturing earth as well as a primary means of bonding with each other.  Food has helped us to know where we are and who we are. ~ Frances Moore Lappe, Hope's Edge
There's nothing like good old comfort food during the winter months, but many of the foods in the Western diet are full of sugar and fats.  Here are a few comfort foods you can feel good about.
Chamomile Tea with Honey
This tea is a great way to wind down for the evening and relax.  Infuse the tea according to the directions and add a touch of honey (honey should only be given to children 2 years or older).  Peppermint, Catnip, and Lavender are also delicious, calming teas.
Homemade Chicken Broth
There is a reason why people have been serving their families homemade chicken soup for generations (real chicken stock, not the canned stuff).   Real chicken stock heals the stomach and digestive system and allows the body to protect and heal itself more naturally.
·      Begin with the bones of an organic, free range or hormone-free chicken.  Place in a large pot and cover with cold filtered water and a couple tablespoons of Apple Cider Vinegar.
·      Bring to a boil (remove any film that floats to the top).  Add an onion, 2-3 carrots, and 2-3 celery stalks.  Reduce heat and simmer for 12-24 hours (you can use a slow cooker if you would prefer).
·      Pour through a strainer and store in airtight containers (I prefer mason jars over plastic).  You can also freeze in ice cube trays so that you can have individual portions.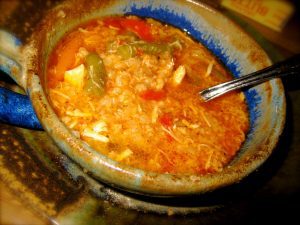 _
Add your homemade chicken broth to leftover chicken and vegetables for a delicious and nourishing soup.
_
Hearty Applesauce Muffins
1 ½ cup whole wheat pastry flour (you can also use brown rice, oat, barley, or quinoa flour)
         1 ½ teaspoons non-aluminum baking powder
         ¾ teaspoon cinnamon
         ½ teaspoon baking soda
         ½ teaspoon sea salt
         1 cup applesauce
         ½ cup molasses (or honey)
¼ cup vegetable oil
Preheat oven to 350 degrees.  Grease and flour a 12-cup muffin tin.  Sift together the dry ingredients.  In a separate bowl, whisk together the oil, molasses, and applesauce.  Add the liquid ingredients to the dry and stir well.  Divide the batter among the muffin tins.  Bake for 20 minutes.
Try Something New:  Stock up on some grains, legumes or seeds that you've never used before and add them to your favorite dishes.  Here are some ideas: Grains (Brown Rice, Polenta, Quinoa), Legumes (Chickpeas, Lentils, Mung Beans), and Seeds (Chia, Flax, Hemp).
Books to Read: 
_
Connection ::
Winter can be lonely.  We tend to stay indoors and at home more often during the winter.  It's just a hassle to bundle up so we can drive into town unless we really need something.  But taking the time to meet with friends, family, or co-workers face-to-face is so important to our sense of connection with the outdoor world.  Weekly play dates, Sunday Worship, potlucks, monthly BabyNet meetings (or another group that can support you), and regular date nights are ways that we ensure our emotional needs are met, even if it means getting out with snow on the ground.  Social media, emails, and phone calls will never replace the need to meet with others face-to-face.
_
End your day by finding your favorite music (love Pandora.com), pulling out plenty of warm blankets, and making a cup of tea.
_
The Space in which we live can greatly affect our mood and the way that we relate to those we spend the most time with.

 

If our homes are cluttered and stressful, then our relationships will be as well.

 

In the past, I started to get stressed out by my stuff during the winter.

 

The combination of being trapped indoors with too much stuff is not a great combination for a family of six (especially right after Christmas when our stuff seems to multiply).

 

We have been very intentional on evaluating the space in which we spend most of our time.

 

Getting rid of stuff and creating a more productive home has helped us find more time for rest and peace.
Helpful Hint:  Set a timer for 15 minutes every day and do something to de-clutter, organize, or make your space more comfortable. 
Books to Read:
_
And just in case you thought this article was going to be about winterizing your home, here are a few websites with some great tips: