Are you struggling to find a connection to the foods you eat?  Have you been interested in eating more real, locally-grown foods but just don't know where to begin?  Life is busy and adding anything new to your to-do list can become overwhelming!  Stick with me over the next few months as I share strategies and resources to successfully add more real foods to your diet.

Questions to Ask Yourself

~Why do you want to eat healthier, locally grown foods?

~Are you willing to sacrifice something that isn't working for you in order to make eating healthier, locally grown foods successful for you and your family?

~What are the barriers you are facing in eating healthier foods?

Be honest with yourself and examine what is currently motivating your eating decisions.  There may be some real barriers like sugar habits, busy schedules, or a lack of energy that need to be overcome so that you can put your health and the connection you have to your food at the top of your priority list.  Locally grown foods are a great way to do this, and once you take the first steps, you will find yourself wondering how you ever got so removed from real foods in the first place.
Simple Steps to Get Started
Our journey has been full of small, simple steps toward eating a healthier diet full of real foods.  When we get off track, like when a new baby joins the family or we come out of the holiday season, I use these tips to bring us back:
1.     Buy a couple of fresh fruits that your family enjoys and put them in a place that is accessible to everyone.
2.     Stop buying processed pantry and frozen foods so that you have more room in your freezer and pantry for real food. Don't feel guilty about eating the foods you already have, but be determined to replace them with better choices.
3.     Start shopping at a local farmers' market, roadside stand, or in the fresh food sections of your grocery store (start by trying to shop only the perimeters of the grocery store).
4.     Add smoothies and salads to your daily eating choices.  Both are easy ways to get the fruits and vegetables you need.
5.     Drink plenty of water (at least eight glasses a day).  When you are dehydrated, you are more likely to crave unhealthy foods.   Consider limiting your beverages to water and milk.

Three Meal Ideas
1.  The Green Smoothie
After my third child was born, I hit a brick wall when it came to energy, weight loss, and overall health.  I had always been physically active but now that I was a little older and heavier, I was having a hard time getting back into shape.  Three little ones five and under take a lot of energy but I wasn't getting the cardio I needed to keep up with them.  Another concern I wanted to cure was poor digestion.  Not a fun topic, I know, but when your digestion isn't happy, your body isn't either!   In an effort to find a solution, I ran across several websites and blogs discussing green smoothies.  I admit that I wasn't initially convinced or even thrilled with the idea.  But after reading the benefits of weight loss, extra energy, reduced sugar cravings, and daily regularity I thought I'd give it a try.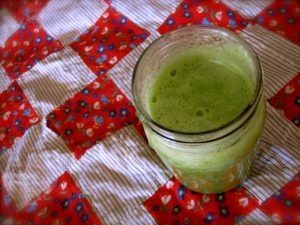 I started with the simplest recipe (orange juice, banana, and spinach), and I can honestly say it changed my life.  I was eating healthier, my sugar cravings dramatically decreased, and for the first time in my life, I had normal digestion.  Within a month I was waking up refreshed, running for the first time in my life, and feeling great.  This one change in my diet encouraged many more positive changes such as drinking more water and eating more salads at mealtimes.

Grocery/Market List:  "Simply Orange" brand orange juice (or another brand that just contains orange juice not from concentrate, 1 bunch of ripe bananas, and fresh spinach or kale (available locally, currently, at Community Farmers' Market).

First thing in the morning drink a large glass of water, followed by a green smoothie: 1 part OJ, 1 banana, and 1 handful spinach/kale (you can also add additional water or ice). Process in a blender or food processor and enjoy!

Repeat for at least three to four days and see how much better you feel.  I noticed reduced sugar cravings the first day.

What I love about the green smoothie is that it is simply real food providing real benefits to our bodies.   It isn't complicated and it doesn't take a lot of time in the kitchen.  Once you have built a routine of adding the smoothie to your diet every morning, you can start trying new things:  Add frozen berries, increase the spinach, use kale, or even add flax seeds for extra nutrition.

2.  Extra Virgin Olive Oil & Real Salt

This is one of my favorite things to do when I need to get our dinners back on a healthy track.  Buy some good extra virgin olive oil and real salt.  Then stock up on whatever is seasonally available at the local farmers' market or fresh food section of your grocery store.  Heat the oil in a skillet and add sliced veggies that have been slightly salted.  Simply cook them to your desired texture (some people like them a bit crunchier while others prefer them very soft).  Add more salt if needed.  Here are a few examples of seasonal vegetables that are good for this cooking method:

Winter- kale, Brussels sprouts, onions, garlic

Spring- carrots, spinach, onion, garlic

Summer- tomato, pepper, eggplant, squash, zucchini, onion, garlic

Fall- broccoli, cauliflower, cabbage, onion, garlic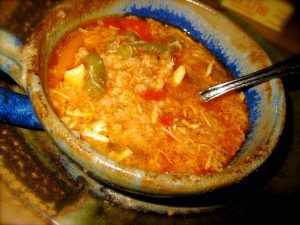 3.  Make Your Own Homemade Chicken Broth
There is a reason why people have been serving their families homemade chicken soup for generations (using real chicken stock, not the canned stuff).   Real chicken stock heals the stomach and digestive system and allows the body to protect and heal itself more naturally.
·      Begin with the bones of an organic, free-range or hormone-free chicken.  Place in a large pot and cover with cold, filtered water and a couple tablespoons of Apple Cider Vinegar.
·      Bring to a boil (remove any film that floats to the top).  Add an onion, two to three carrots, and two to three celery stalks.  Reduce heat and simmer for 12-24 hours (you can use a slow cooker if you would prefer).
·      Pour through a strainer and store in airtight containers (I prefer mason jars over plastic).  You can also freeze in ice cube trays so that you can have individual portions.  Makes approximately 2 quarts.
Simple White Bean Chicken Chili
1-2 tsp olive oil

2-3 cloves garlic

1/2 sweet yellow onion

1 7 oz can of whole green chiles, diced

Sea salt and cracked pepper

4 cups of homemade chicken broth

1 15 oz can of white beans, rinsed and drained

1 15 oz can of white kidney beans, rinsed and drained

2 cups of roasted chicken, chopped

Add additional vegetables if you prfer

Roast the garlic (click here for instructions). Heat the olive oil in a large dutch oven (or in a skillet and transfer to a crock pot) and cook down the vegetables. Cook for five to eight minutes then add the broth. Next add the beans and chicken.  Cook on low for about an hour.