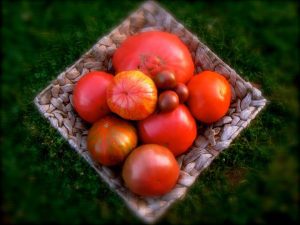 Four years ago Nathan and I were exhausted from a long day of work-he in the recliner, me on the couch-and we both looked at one another and understood (this couldn't be all about us).  With a touch of success and the reality that we may actually be able to farm full time one day we knew that if we were to be true to ourselves we must make every effort for local food to be for everyone-not just those who have the immediate knowledge and financial means to acquire it.  Our first partnership, together with other farmers from Community Farmers Market, was with The Foundry thanks to our friends Adam Shourds and John David Ryan with a garden project, then community classes, then kids programming and now this, what people really need-access to food.  Today-we celebrate the Heirloom tomato and all it represents.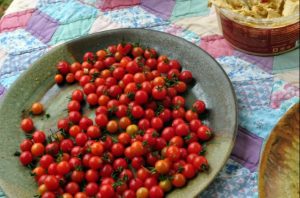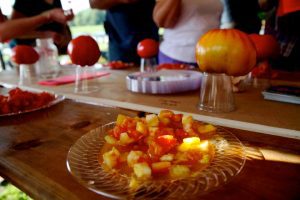 The way we used to eat, the reality that we as a society have become separated from fresh, real food (some of us more than others).  Some of us choose not to eat our fruits & vegetables because of the vast opportunities of other foods that we have available to us-others have no choice.
heir·loom
: a valuable object that is owned by a family for many years and passed from one generation to another
Take a moment to consider that this separation from fresh food, garden food is new for many.  Only a few short generations ago we were all connected to our food-growing it to survive.  Many new to the United States were just in years past visiting their local market every day for their food.  The commercialization and intensity of the companies who have won us over in this country pull us away more and more every year.  The ability to celebrate something fresh and good in this way, grab our attention if only for a short season and create this kind of joy is a blessing beyond words.  It's a reminder that wholesome, delicious, healthy food is not gone forever.
heir·loom
: an old type of plant that is still available because individual people have continued to grow it for many years
This tomato represents opportunity that was given to our family only so that we could give back to our community.  You are invited to come and go at the fourth annual Heirloom TomatoFest today (Wednesday July 16th) from 4-6:30 pm at The Foundry.  Come and go among farmers, volunteers community leaders, those with many resources and those without.
We will gather around the tomato tasting for the fourth year and celebrate.  Celebrate Nathan's ability to follow his dream and farm full time, Michelle's ability to break free from her past, a family trying to find balance, opportunities being provided to inspirational young people, community leaders who are living this out each and every day, residents of a community that no matter how you look at it-just do not have the resources most of us have.  Come out today, break up your routine, celebrate the tomato and ask someone to share their food story with you.  I bet it will be beautiful.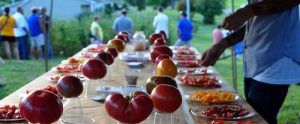 "A community is the mental and spiritual condition of knowing that the place is shared, and that the people who share the place define and limit the possibilities of each other's lives. It is the knowledge that people have of each other, their concern for each other, their trust in each other, the freedom with which they come and go among themselves."   Wendell Berry