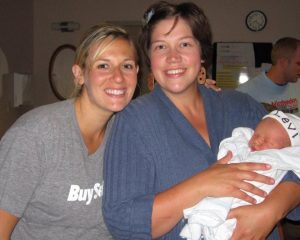 Doulas provide support even after babies are born.  Here is a photo of Melissa, Jen and Levi taken during a postpartum visit at the hospital.
www.thejollydoula.weebly.com
Finding My Calling
After the birth of my second child I felt as if there had been something I missed from the experience.  I thought back to a conversation I had years ago with a co-worker who cherished her birth experience and was supported by a doula.  Because of her willingness to be supportive and honest, she changed the course of my life with that simple conversation.  Several years later I searched my community for support and realized there was a small but strong group of women ready to support me.  My last two births have been attended by a doula and in return I've had the blessing of attending other women's births.  I'd like to share pieces of this community with you and encourage you to seek it for yourself.
The Birth of Levi by Jenn, mom of 3
Just a few short weeks ago, I met my doula for the first time and a few days later, my third child was born. I had never had a doula before or even considered a natural birth, but I was completely on board after doing a little research and meeting my doula, Melissa. As we talked on the phone, we shared our birth stories, and I knew she would be perfect for me because we could relate to each other. Once she got to my house (when I was in labor…this was the point I would have normally gone to the hospital) we talked for a while; she went on a walk with me, brought me snacks and drinks, offered so many supportive words, gave me a massage, and used many other techniques. While I labored, Melissa was a constant source of support, encouragement, and strength – for me and my husband.   Connecting with another woman before, during, and after birth offered me an experience I will never forget.
Melissa, Jenn's Doula – "Along with her husband and her mom, we all worked together to make Levi's birth beautiful and it was! It was incredible to be able to encourage her in her choices and support her through each of the stages of labor. To witness the faith that she has in her body and her ability to birth her baby was an experience I won't forget! It's just amazing knowing that having two extra hands around to add pressure to the right spots and a few extra encouraging words does make a difference. I experienced this as well with my own birth and having a doula present, Just having an experienced woman there who is outside the circle of your family and is there just for you takes your birth experience to the next level!"
The Birth of Vivianne by Heather, mom of 2
A precious baby's birth is a blessing in any circumstance, but the experience of my daughter's birth is a true treasure. I say this with much gratitude to my birth doula, Michelle. My fellowship with her before, during, and after my daughter's birth has been a gift from Heaven. I was so fortunate to be surrounded during this experience by the wonderful women in my life…my mother, sister, and beloved friend as well as Michelle. Her role in my life, and especially during Vivianne's birth, calmed fears and nurtured peacefulness. I followed birthing choices that were important to me, and Michelle was there in each moment with her guiding heart. My very first moments with my daughter were extraordinary as a result of these choices and my fateful decision to seek the support of a birth doula. The knowledge, support, and strength that I gained from this experience will remain with me always.
Michelle, Heather's Doula – "From the first moment that I met Heather it was obvious that she believed in her own ability to make decisions for herself regarding her birth. She simply needed to be surrounded by a small circle of women who would believe in her.  At our first prenatal appointment I was able to give her the basic knowledge of what happens during the birth experience that calmed her fears and help her focus on birth as a normal process.  I was a new doula but through loving support and instincts, we took each contraction at a time.  There is a rhythm and pattern to birth that all women experience.  A woman takes those rhythms and makes them her own.  It's beautiful."
The Birth of Judd by Ashley, regarding her first homebirth
I wanted the extra support of a doula for my first homebirth to encourage me in my efforts of an all-natural birth. My doula attended some of my prenatal visits with me so that she was more familiar with my pregnancy. It was nice to have someone with my husband and me to explain and take care of things. My husband and I plan on having our doula attend future births with us and are blessed to know such a caring person.
Brianna, Ashley's Doula – "It was a blessing to attend this mama's third birth.  Birth is something that impacts our lives in a huge way and every woman remembers every detail of each birth throughout her entire life. A good birth experience empowers her and brings her into her true calling as a woman. An empowered, supported woman is a better parent. A child who is well-nurtured grows into a more secure, responsible adult, and the cycle continues. To witness and encourage parents through this life-changing experience is the privilege of a doula."
What is a Doula?
The word "doula" comes from ancient Greek, meaning "a woman who serves" It is now used to refer to a trained and experienced professional who provides continuous physical, emotional, and informational support to the mother before, during and just after birth; or who provides emotional and practical support during the postpartum period.
Studies have shown that when doulas attend birth, labors are shorter with fewer complications, babies are healthier, and they breastfeed more easily.
A Birth Doula
·      Recognizes birth as a key experience the mother will remember all her life.
·      Understands the physiology of birth and the emotional needs of a woman in labor.
·      Assists the woman in preparing for and carrying out her plans for birth.
·      Stays with the woman throughout the labor.
·      Provides emotional support, physical comfort measures, and an objective viewpoint, as well as helping the woman get the information she needs to make informed decisions.
·      Facilitates communication between the laboring woman, her partner, and her clinical care providers.
·      Perceives her role as nurturing and protecting the woman's memory of the birth experience.
·      Allows the woman's partner to participate at his/her comfort level.
Local Professionals Who Support Doulas
Dr. Brandon Crouch, Chiropractor – "As a chiropractor who cares for many women during pregnancy, I have seen a dramatic difference when women are supported before, during, and after the birth of their child. Without the proper support, women often leave for the hospital too early, get 'persuaded' to be induced too soon, have more cesarean sections, have more difficulties nursing, and often feel overwhelmed and at the mercy of modern medicine.  The only way I would ever recommend a mother to go through her pregnancy is with a doula, midwife, or supportive doctor by her side.  You need a voice of calmness, assurance, and guidance to help you, your spouse, and your baby to have the very best birth experience.  www.crouchfamilychiro.com"
Dr. Chantelle Crouch, Chiropractor – "My husband, Brandon, and I are often asked, 'Why did you hire a doula for your birth?' In short, we made the decision together because in graduate school we had the awesome opportunity to personally talk with women who gave birth WITHOUT a doula. Their experiences of anxiety throughout the whole labor and delivery due to 'fear' of the unknown helped us realize what we wanted for our own birth.   We wanted constant 'reassurance' during the whole process that what was happening to my body was the typical signs of labor and delivery.  We wanted someone there to alleviate our fears and allow us to completely enjoy this beautiful process of bringing our child into the world.  Since we were having a hospital birth, Brandon was able to focus on me and not worry about 'when'" to leave for the hospital, 'where' to go when we got to the hospital, or 'what' to say to the nurses at the hospital.  He was able to just be present in the moment with me and our son. It is amazing what the female body is able to accomplish on its own when given the proper emotional support from an experienced doula."
Terryn Honeycut, Director of Crisis Intervention:  Hope Harbor, Inc:  A Sexual Trauma Recovery Center – "While it is important for all pregnant women to have support, in my experience at Hope Harbor, Inc.; A Sexual Trauma Recovery Center, survivors of sexual trauma are at great risk of having their childbirth experience turn into a painful reminder of past abuse. For survivors, flashbacks can happen as the result of normal pregnancy encounters, like intimate exams that can leave the mother feeling exposed and vulnerable. These feelings can increase if the mother feels her needs are disregarded by healthcare professionals instead of being empowered to trust her body. Therefore, the need for support is very important, and working with a doula is an excellent choice. Hope Harbor can also be a support, offering free counseling to survivors of sexual trauma and to their loved ones. Mothers needing to discuss thoughts and fears, as they relate to past abuse, can do so in a safe, non-judgmental environment."
Dana Bennett, Registered Dietitian, Lactation Counselor – "In my work with the WIC (Women, Infants and Children) program, one of my primary jobs is breastfeeding promotion.  I see many moms who tell me that they're going to 'try' breastfeeding.  More often than not, it doesn't 'work out.'   When I ask these moms about their labor and delivery experience, many have gotten interventions that they hadn't planned on, which often result in complications.   These unexpected complications make breastfeeding initiation more difficult, and it often gets abandoned in favor of 'easier' formula feeding in the early postpartum period.   Those that choose doulas have planned ahead, and they are more committed to their plan.   Doula-assisted births decrease interventions.  Fewer interventions lead to easier breastfeeding.   Simply put, mom can't move forward with her breastfeeding experience if she's still grieving over her birth experience.   My job is to facilitate breastfeeding (nature's way!), and doulas facilitate birth (nature's way!).  Good breastfeeding follows a good birth!"
BabyNet Community-The Fourth Trimester (preparing for the first 3 months after baby arrives)
September 26th 5-7 pm @ The ALIVE Center
www.babynetky.com or Facebook: BabyNet KY
Next Month:  Confessions from the Mommyhood
Doulas receive extensive training as part of their certification requirements.  This helps to develop a strong network that enables them to support one another as well as the mothers and babies they serve.
www.skydoulanetwork.com
Resources for Doulas
Visit Bellies and Babies-Great resources for doulas and families.  She is offering a great giveaway on her blog right now too!
Plum Tree Baby has great resources for
doulas and childbirth educators!