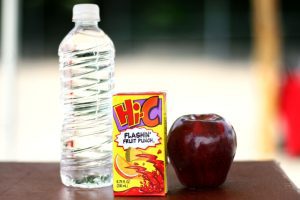 Juice Box Ingredients  (water, high fructose corn syrup, sugar, orange juice from concentrate, pineapple juice from concentrate, vitamin c (ascorbic acid), citric acid, natural and artificial flavors) compared to an apple and water.
I still remember how the gravel felt beneath my shoes as I walked the small path between the road and hillside.  My mother and I would walk to the city bus stop every two weeks to make our grocery trip.  Living in California without transportation we had to buy light, highly processed foods that would last.  I mastered the art of balancing groceries on my arms as we walked home while developing a taste for "convenience" foods.  There is another memory from that time that has carried with me.  I'll never forget the large wooden bowl filled with fruit and my neighbors home.  Because they had a no snacking rule we were not allowed to eat the fruit when I was there to play, but on one afternoon as I was getting ready to leave her mom asked me if I would like to take a piece of fruit with me.  I leaned over the bowl and looked at each and every piece until I decided on a beautiful kiwi.  I can still remember how the outer, prickly skin felt in my hands.  I can see the bright, green flesh, taste the tartness on the tip of my tongue, and feel how the seeds crushed between my teeth.   Fresh food, when given the chance, can change you.  To this day I always have a bowl of fruit on my kitchen table.
From Fake Food to Fast Food
A little older, and what I thought wiser I started thinking about my health and more particularly, my weight.  What seemed like the logical thing to do was start the cabbage soup diet and wash it down with a 12 pack of slim fast.  My teen and college years were spent living one fad diet to the next.
After getting married my husband and I were busy with physically and mentally challenging jobs that kept us in a constant level of survival mode.  Our diet and health began to prove this as we gained weight and always felt tired. Fast food and frozen meals were easy, tasted good and required no learning curve.
First Real Food
The real change in my thinking and approach to food was when my second child refused a bottle, even for occasional feedings.  Having supplemented and started solids early with my first child I began to slow down and think about how important the foods we eat are to our overall health. I like what Dana Bennett (Dietitian and Certified Lactation Consultant) has to say about National Breastfeeding Week (August 1-7),  "Breastfed babies eat local every day, every time no matter what's in season".   It's still a journey and I have a long way to go, but I'm hopeful to be developing healthy habits that will come even easier to my kids once they are adults.
This awakening to real food made me a label reader once she started solids.   I was shocked at the ingredients in most "kid friendly" foods and drinks.  I started with small steps like replacing juice boxes that have over 10 ingredients with an apple and a glass of water.  No matter where we are on the journey it's never too late to get back to the basics.
Local Food and Community
Living on a small farm we have access to lots of fresh produce all summer long but one of the areas that I was struggling with was finding local fresh milk, meats, and eggs throughout the year.  When you are meal planning and on a budget you need to know what is going to be available and when.  About that time I met Linda Lewis who owns Stoney Creek Farm with her husband Bill.  We were soon enjoying fresh milk from our own herd share, farm fresh eggs and a variety of pork, chicken and beef.  Linda was willing to share tips and ideas for preparing foods that made it more realistic for my family.  There is something valuable in knowing where your food comes from and building relationships with those who work so hard growing that food.
Local foods are simple ways to reconnect to a food system that is formed by basic foods like fresh milk, raw fruits and vegetables, humanely raised meats, fresh brown eggs, and healthy herbs. It is less about a new fad and more about a way to reduce your grocery list to foods in their truest form.  Farmers markets in particular make it even more convenient to purchase a wide variety of real, local foods all in one place.  Stoney Creek Farm joins other vendors who are committed to helping busy families re-connect to real food through education and community outreach at Community Farmers Market in Bowling Green.  For more information visit the "Market Booth" each Saturday at the market from 8-1.  Community Farmers Market is located at "The Old Mall" Campbell Lane entrance (intersection of Rt. 31W and Rt. 231).
Stoney Creek Farm
stoneycreekfarmmeats.com
You can find their quality products at these locations:
Community Farmers Market (Bowling Green)
Bounty of the Barrens (Glasgow)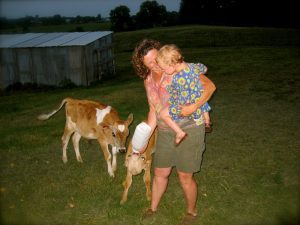 Linda Lewis and my daughter Lilah feed the calves at Stoney Creek Farm.

 

For more photos, a product list and recipes visit www.stoneycreekfarmmeats.com
Simple Steps to Real Food
Our journey has been full of small, simple steps toward eating a healthier diet full of real foods.  When we get off track, like when a new baby joins the family or we come out of the holidays I use these tips to bring us back.
1.     Buy a couple of fresh fruits that your family enjoys and put them in a place that is accessible to everyone.
2.     Stop buying processed and frozen foods so that you have more room in your freezer and pantry for real food. Don't feel guilty about eating the foods you already have, but be determined to replace them with better choices.
3.     Start shopping at a local farmers market, road-side stand or in the fresh food sections of your grocery store.
4.     Simply add smoothies and salads to your daily eating choices.  Both are easy ways to get the fruits and vegetables you need.
5.     Drink plenty of water (at least 8 glasses a day).  When you are dehydrated you are more likely to crave unhealthy foods.   Consider limiting your beverages to water and milk.