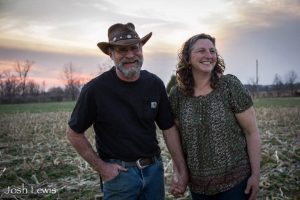 I love these farmers. Seven years ago I was introduced to them through mutual friends at a local buyers club. Linda was set up selling fresh milk, sausage, and other farm fresh food. She encouraged me with her matter of fact, compassionate answers to all of my questions. Together with the other farm women I met things began to change in my life.
Not only was I learning to heal my daughter Lilah who was suffering from severe food allergies, but I was learning the importance of real food for our entire family. Over the next few years I learned more about age old cooking methods like fermentation, bread making, and good old fashioned frugalness. Most importantly, I discovered the value of spending time on the farm growing good food and the patience to devote time in the kitchen cooking. The mentoring that I received covered every inch of what it is like to be a woman raising children on a full time farm.
Without knowing it they prepared us for each next step before it was upon us.
Bill and Linda invited us on the farm and into their lives through sharing their experiences with us. They never made it look easy and for that we are thankful. When a group of farmers came together to start Community Farmers Market Bowling Green they took a chance on us. Together with a handful of other vendors we stood in the back of a parking lot hopeful that this idea of inclusiveness and buying local in a big way would take hold. They believed in us just like we believed in them-and that was one of the most valuable ways they mentored our family.
The Lewis's are one of many farmers and artists at Community Farmers Market that have encouraged me personally during this time of raising up my children, making career changes, applying realistic improvements to the way we eat at home and sharing my voice. I'll be forever thankful that there have been people like them who are willing to share of themselves so openly while remaining loyal and committed to the work we all set out to do here in South Central Kentucky five years ago.